If you're looking to buy a Nissan in Bloomington, IN, there are quite a few models for you to choose from. However, if you want an affordable sedan that can service your entire family, one of the better choices you can make is to buy the new 2015 Nissan Altima. To show you why, Eric Tallberg's recent review of the 2015 Altima for the Cargurus website highlights the car's reliable engine: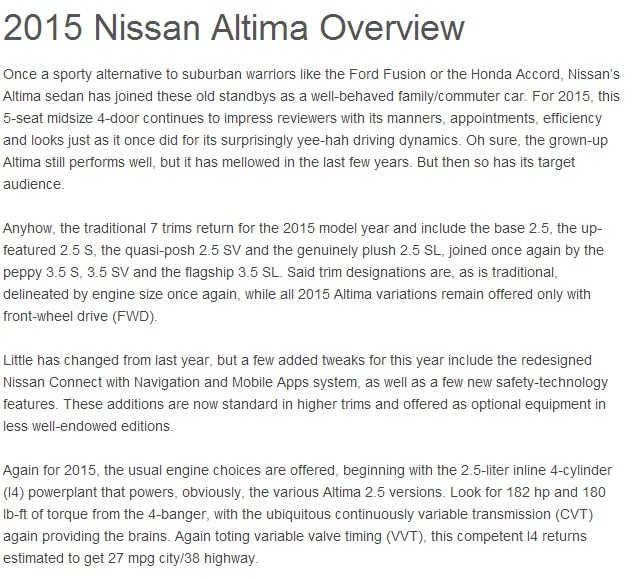 Again for 2015, the usual engine choices are offered, beginning with the 2.5-liter inline 4-cylinder (I4) powerplant that powers, obviously, the various Altima 2.5 versions. Look for 182 hp and 180 lb-ft of torque from the 4-banger, with the ubiquitous continuously variable transmission (CVT) again providing the brains. Again toting variable valve timing (VVT), this competent I4 returns estimated to get 27 mpg city/38 highway.
The engine is just the beginning. The basic 4-cylinder engine is powerful enough for most purposes, but if you want more power under the hood, there is an option for a more powerful 3.5 liter V6 engine which packs 250 horsepower; maybe a little too much for taking Junior to his baseball game, but it's enough to haul the entire family for a cross-country trip. It is backed by a highway fuel-economy estimate of 38 mpg while on a highway.
It's not all about the engine though. The Altima's distinctive styling is conservative compared to cars like the Ford Fusion or the new 2015 Toyota Camry, but it's serviceable enough and helps ensure that the inside has enough space to handle five occupants. What's great about it are the features that your family, especially your kids, would appreciate.
At the top of the list is the highly improved NissanConnect infotainment suite. Boasting a 7-inch touchscreen display, it can provide navigation and mobile apps for your family to play with as you drive. It can provide WiFi connectivity for your smartphone, while also providing Facebook, Twitter, e-mail, and text message access. It's also got internet radio reception, which you can route to the premium Bose audio system if your family wants some music.
Additionally, the Altima gets some added safety features this 2015. Lane-departure, blind spot and moving-object warning systems are now included to make sure drivers are better aware of their surroundings. A new active understeer control system automatically puts on the brakes when you're turning too fast to stop any unfortunate accidents.
With all of these features, the 2015 Altima is definitely a tempting prospect. If you're interested, reliable Bloomington Nissan dealers like Royal on the Eastside would have this model available for purchase.
(Source: 2015 Nissan Altima Overview, Cargurus.com, June 16, 2014)