Local Bloomington Subaru dealers have a wide selection of SUVs in their arsenal, one of which is the newest 2015 Outback. The latest addition to Subaru's long line of reliable all-wheel-drive SUVs, the 2015 Outback is the subject of St. Louis Post-Dispatch writer Dan Wiese's review. He shares his thoughts in this short excerpt: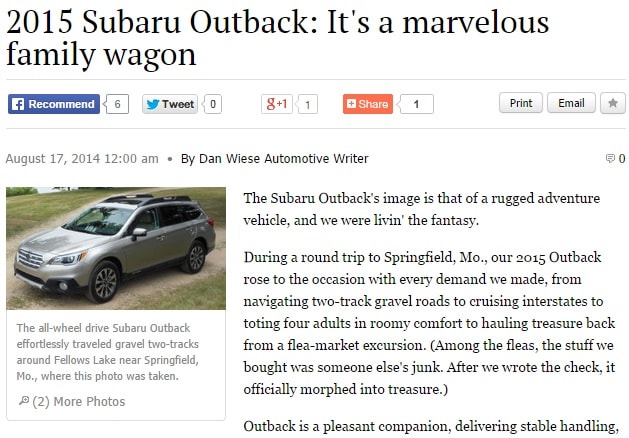 During a round trip to Springfield, MO., our 2015 Outback rose to the occasion with every demand we made, from navigating two-track gravel roads to cruising interstates to toting four adults in roomy comfort to hauling treasure back from a flea-market excursion. [...]
[...] Outback is a pleasant companion, delivering stable handling, all-wheel drive confidence and a quiet cabin. While never really engaging the driver, it never stresses the driver, either. The only complaint might be a bit of wind noise at highway speed.
A review posted on the popular consumer help site ConsumerReports.org praises the 2015 Outback for its price-performance balance, with a 2.5i Premium version of the vehicle earning praises for a price tag under $30,000.
Subaru redesigned the 2015 Outback based off of several complaints on the previous model. Consumers often pointed out the rather noisy and underpowered engine, outdated electronics, and poor driving dynamics in the 2014 installment. With everything laid out, Subaru's designers took off from there and came up with a vehicle that received a fair share of acclaim.
The 2015 Outback has two different variations: one sporting a 2.5-liter four-cylinder engine with a 175-horsepower output, and another packing a 3.6-liter six-cylinder engine2 with a 256-horsepower output under the hood- available only in the top-tiered Outback Limited version. Despite the top-notch power output that both engine configurations boast, the 2015 Outback prides itself on yet another perk: insulation.
The review on ConsumerReports.org states that the vehicle is insulated enough to suppress road, wind, and engine noise, essentially making the interior cabin as quiet as any vehicle can get. Aside from the noise suppression, the 2015 Outback also packs some punch in the built-in multimedia system; a far-cry from the previous model. Syncing up a Bluetooth-enabled phone is much easier, and also offers the option to listen to online music servers.
Subaru's renowned features- reasonable cargo and passenger spaces, all-wheel-drive transmission, and EyeSight collision prevention system- still remain, making the latest Outback definitely worth a look during visits to trusty Bloomington, IN Subaru dealers such as Royal on the East Side.
(Source: 2015 Subaru Outback: It's a Marvelous Family Wagon, St. Louis Post-Dispatch, August 17, 2014)