Trusted Bloomington car dealerships such as Royal on the Eastside offer both brand new and reliable used cars. While such certified dealers exist to thwart bogus sellers, there are still some crooks who'd exploit every chance to sell defective cars to unsuspecting buyers.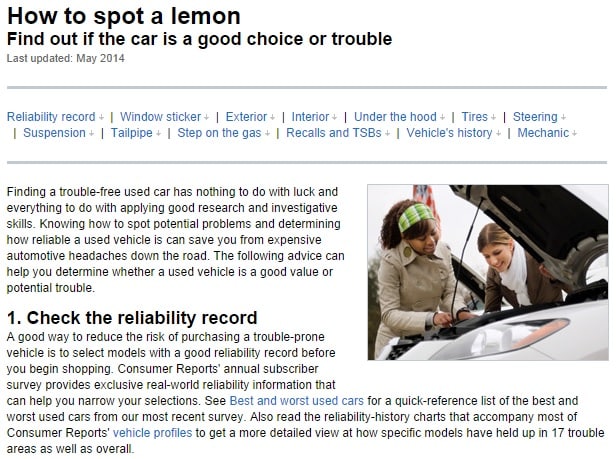 Such cars are referred to as 'lemons'. Shady dealers still look to sell these cars under the guise of reliability, and are sometimes hard to spot. However, an article on ConsumerReports.org disagrees:
Finding a trouble-free used car has nothing to do with luck and everything to do with applying good research skills. Knowing how to spot potential problems and determining how reliable a used vehicle is can save you from expensive automotive headaches down the road.
Here are a few tips on how to spot a lemon.
Check the window sticker - The Federal Trade Commission requires used car dealers to post a Buyer's Guide sticker in every unit that's for sale. Such stickers often contain critical information such as warranty, and the potential repair costs that come with the vehicle.
Check the vehicle's history report - One way of checking a car's history is by knowing its serial number (otherwise known as a VIN number). This can then be used to purchase a title history report from companies such as CarFax or AutoCheck. If the VIN number is held back by the seller, then it's best to head down to the next dealership.
Inspect for flood damage - Once floodwater gets inside a car, there would surely be problems in the long run3. Tell-tale signs of flood damage include funky cabin smells, moldy upholstery, and corroded electrical wiring to name a few3.
Inspect the exterior - Dependable used cars in Bloomington, Indiana look great from the outside, despite having logged miles underneath them. Shady sellers retouch flawed cars well enough that quick glances won't suffice. One must look for things that obviously look out of place, such as metal sheets that don't fit right, or unsightly welded connections that look hideous.
Check the engine - Whether done personally or by a certified mechanic, the engine's condition should always be top priority. Typical inspections would require a mechanic to put the car on a lift to inspect for underbody damage which may indicate previous collisions. By doing so, the trouble of costly repairs in the future is mitigated.
(Source: How to Spot a Lemon, ConsumerReports.org, May 2014)