Published by: Corbin Eckert
German cars like those from Audi have always been associated with one key trait: luxury. These upscale vehicles often come with the promise of sheer comfort to the driver and passengers as well as the prized reliability of their engineering, which have practically made them a status symbol of the rich and the elite.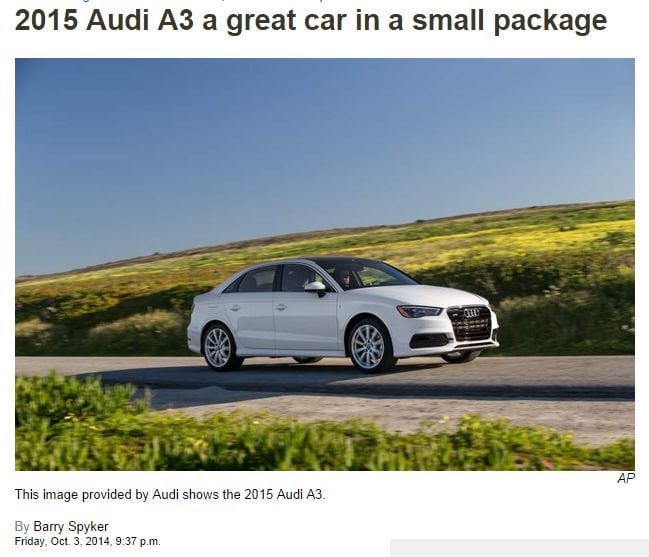 Aside from the luxurious cabins and modern styling, the cars designed by Audi are also valued for the excellent driving experience they bring. Trib Live reporter Barry Spyker features the 2015 Audi A3, one of the premier brand's sought-after sedans:
Punch it and feel the A3's turbocharged quickness from the get-go, especially from the bigger 2.0-liter engine, which zips to 60 mph in 5.8 seconds. Getting it there is a herd of 220 ponies and 258 pound-feet of torque.
The A3 is a compact and feels like it on the road - but in a good way, like agility, cornering and parking.
Changing gears is done smoothly and without indecision; a 6-speed dual-clutch transmission is standard on all models.
Unlike the popular notion, luxury cars like the 2015 A3 are affordable if you buy them used. Now, you may have reservations when it comes to pre-owned vehicles, but "used" doesn't always imply worn-out or neglected. If you buy used Audi in Bloomington, IN authorized dealerships, you can be assured that the luxury car's essential qualities will be intact despite the price markdown. The dealer makes sure that all their used inventory are properly maintained and that each one has complete records.
The best argument for buying used upscale cars over new non-luxury vehicles is the latter's rapid depreciation rate. New models may lose around 20% of their original value within the first few years, which means you may end up owing much more than the car's true value if you have a long financing term.
In the case of used luxury cars, the first owner already suffered that initial depreciation hit, which means you end up with a practical purchase (that looks ostentatious to boot). The car may also have remaining warranties to help manage the costs of future repairs or maintenance.
A 35,000 to 40,000-dollar budget will go a long way when you want an indulgent yet affordable car. Bloomington Audi dealerships like Royal on the Eastside can help you explore your options for a pocket-friendly luxury buy.
(Source: 2015 Audi A3 a great car in a small package, Trib Live, October 3, 2014)