Published by: Corbin Eckert
If you're the kind of motorist who likes their vehicles to have sufficient heft for climbing rough terrain, you will need something with raw torque. Denis Flierl of Torque News can clue you in on one such candidate: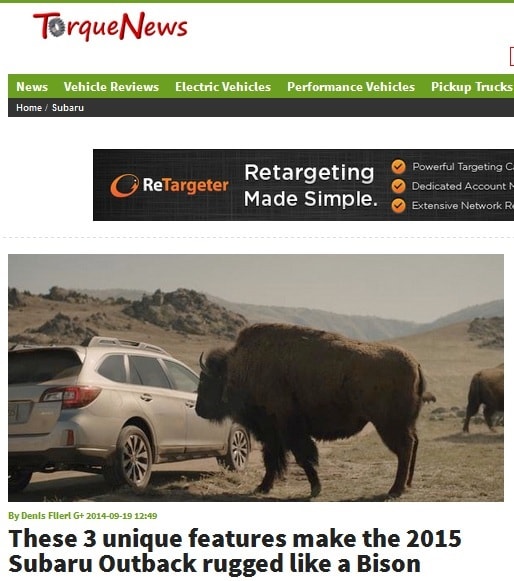 The all-new 2015 Subaru Outback is a rugged performer. What similarities does it share with the North American Bison?
There's a saying here in Colorado which is Bison country, "Bison have an even disposition, they are always mad." If you've ever spent any time around these huge animals, you know just how mean they can be. The Bison is one of the most rugged animals on the planet. They have to be to withstand the rough winters on the plains of Colorado. The 2015 Subaru Outback may not be mean, but it shares some similarities with the American Bison.
Indiana may be a tad east of the Rockies, but the Hoosier State will have a soft spot among Subaru operators. All Subarus sold in North America come out of Subaru of Indiana Automotive Inc's plant at Lafayette; a 2010 Outback became the plant's three millionth vehicle built when it left the assembly line in late September, 2009, and assembly on the 2015 model started in July, 2014. If you see that a new Outback is what you are looking for when preparing to go off-road, drive it home from a Bloomington Subaru dealership like Royal on the Eastside.
Claw Power
Much is to be expected from the Outback's torque. The 2.5i, 2.5i Premium, and 2.5i Limited versions pack 174 pounds of torque per foot on a 175-hosepower engine but the 3.6R Limited shines with a 256hp engine dishing out 247lb/ft of torque.
Direction
All the torque the Outback engine can produce will be for nothing if there are no features that can channel them properly. The 2015 Outback has a new Active Torque Split All-Wheel Drive, which is designed to manage torque and steering, depending on wheel slips in light of current road conditions.
The 2015 Outback's brakes have been upgraded across all configurations into larger ventilated discs, which dovetails well with the Active Torque Vectoring (ATV) system. An enhanced version of Subaru's Vehicle Dynamics Control (VDC) mechanism, ATV adds braking power to inside wheels during a turn and helps improve cornering. Flierl says the X-Mode control device first seen on the 2014 Forester is also standard Outback fare; it augments the VDC in reducing wheel spins.
All in all, if you can score something that's tailor-made for hitting the boondocks on a weekend, the new Outback may just fit the bill. Getting it from a dealer that sells a Subaru in Bloomington like Royal on the Eastside is even better.
(Source: These 3 unique features make the 2015 Subaru Outback rugged like a Bison, Torque News, 19 September 2014)