Published by: Corbin Eckert
If you've been holding out on buying a new car that can be powerful and classy, you deserve to be kept up to speed on new cars coming to your neighborhood auto dealer. Viknesh Vijayenthiran of The Motor Authority has one such example: a new version of the Audi A6 executive saloon that was unveiled at the 2014 Paris Auto Show: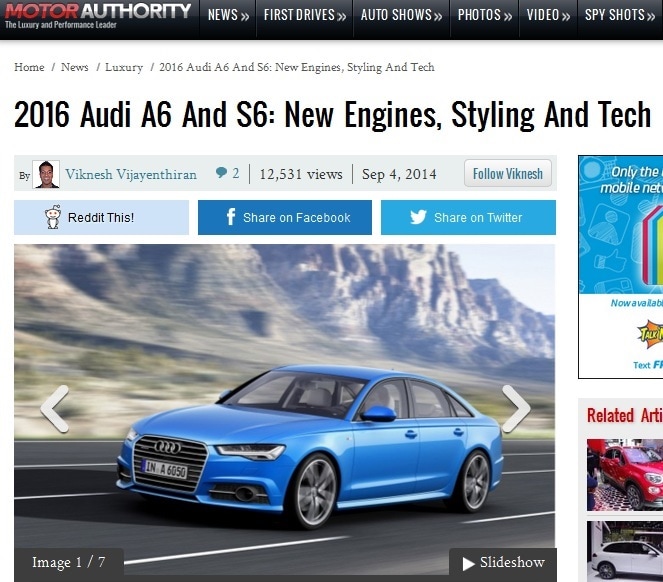 The 2016 model year sees Audi's A6 undergo its mid-cycle update, and the latest version of the stylish sedan benefits from some subtle tweaks to the exterior, new engines and transmissions, and a new infotainment system. The changes affect the complete A6 range, including the sporty S6 as well as the A6 Avant, A6 Allroad and high-performance RS 6 Avant models that we miss out on here in the U.S.
The A6 may appeal to Indiana motorists who want to drive something different. The car has long reaped good marks for power, safety, and full features. When you're dead set on bringing home an A6, you might get the best shot at quality Bloomington car dealerships like Royal on the Eastside.
Power
Although no full specs have been released for the 2016 A6 slated for the U.S. market, the data released so far can be enough to whet appetites, especially under the hood. Vijayenthiran said the base model coming out in Europe packs a 1.8-liter FSI Ultra engine, but slight improvements may be expected of the three-liter single-turbo TDI and TFSI units present in current A6s. However, the newest model will not have the continuously variable transmission as seen in present A6s, leaving U.S. motorists with the standard seven-speed dual-clutch.
Weight
The 2016 A6 reportedly benefits from weight savings, which can help improve handling. Sources said hot steel and aluminum were used for constructing the body and the suspension now benefits from glass fiber-reinforced plastic springs, which cuts around ten pounds off the overall weight. Vijayenthiran said the base model tops off at 3,384lb as a result of the overhaul.
Controls
Audi is pulling out all stops to improve the A6's driver-support systems. You can expect the 2016 A6 to pack adaptive cruise control with stop-go traffic crawl detection, blind-spot and lane-keeping support, enhanced night vision, and pre-sense active braking, all linked to a heads-up display. The company also teamed up with graphics processor company NVidia to build a new infotainment system to manage the car.
The 2016 A6 can be worth waiting for in terms of comfort and safety. If you need a pre-owned A6, trust sellers of used cars in Bloomington, IN to help you with one until the new model hits the U.S. market.
(Source: 2016 Audi A6 And S6: New Engines, Styling And Tech, The Motor Authority, 4 September 2014)