Your car is only weeks old, the memory of the moment driving it out of the Subaru Bloomington, IN dealer's parking lot still fresh in your mind. Since then, you've done all you can to ensure that no scratch, dent, and streaks of mud and dust find their way onto your car's shiny surface. At least you try. Autumn is here, and winter is just around the corner; with the cold, wet seasons, you know how much tougher it is to keep your car looking spotless. So what do you do?
Great winter vehicle maintenance tips
If you don't plan on keeping your new car in storage for the winter, then you better be extra careful with the way you handle it on the harsh winter roads. For adequate protection for your car this winter season, Jennifer Geiger of HowStuffWorks.com offers the following nifty tips: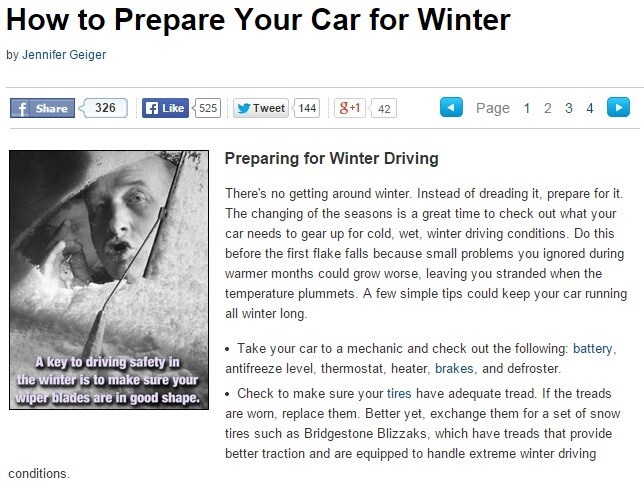 Check to make sure your tires have adequate tread. Exchange them for a set of snow tires such as Bridgestone Blizzaks, which have treads that provide better traction and are equipped to handle extreme winter driving conditions.
Purchase winter wiper blades to cut through snow and ice instead of using regular ones throughout the year.
Check the spray nozzles of your windshield-washer system. Sometimes, they get blocked by wax or debris. Use a needle or pin to clear blocked nozzles.
Road salt commonly used during winter can damage your car's paint. Rinsing it off every once in a while can help, but a good wash and coat of fresh wax will go a long way in preventing corrosion and keep your vehicle looking like new.
The tips above are helpful for maintaining your vehicle's appearance, but what about its inner workings? The last thing you want to experience when the temperatures drop is to be stranded out in the cold, so this early, it's wise to have your vehicle inspected and maintained by a certified technician at a Subaru Bloomington service center.
The importance of pre-winter vehicle inspection and maintenance
The winter cold can wreak havoc to a lot of your vehicle's systems and cause issues such as hard starts, rough idling, and sluggish performance. A visit to the service center requires just a small investment of time and money-it's a way to ensure peace of mind and avoid the hassles and costs of a vehicle breakdown during severe weather. With that said, be sure to have your vehicle inspected and maintained before it's too late.
(Source: How to Prepare Your Car for Winter)