It's that time of the year again: The weather's grown cold, and for Indiana drivers, this means snow-covered roads. With the streets all blanketed in white, it can be tough for drivers to maneuver their vehicle and get a handle on things properly. So what are the best cars for such conditions? The experts at The CarGurus Blog lists 10 cars that will make the purchase worth your while this winter. Here are three of them: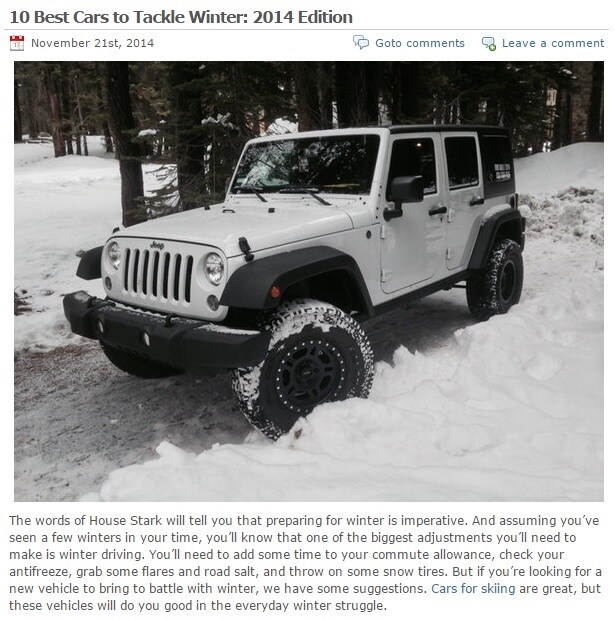 Chrysler
As far as entry-level luxury sedans go, the Chrysler 300 is the one to handle the difficulties of winter conditions. The 300 has plenty of trims to choose from with both RWD and AWD (but we don't have to tell you which of these you should get for snowy conditions).
Audi
The Audi Allroad brings some fine handling to the station-wagon marketplace. As the name implies, the Allroad offers Audi's Quattro all-wheel drivetrain that is capable of driving on whatever road conditions come your way, be they rain, snow or ice
Subaru
Subaru has long held a reputation for building cars that perform well in the snow. Although almost every car Subaru makes has helped contribute to this, perhaps the most impressive is the Subaru Forester.
Cars are only as good as their drivers, so after you drive off the parking lot of a Bloomington Audi dealer with one of these cars, be sure to keep the following winter driving safety tips in mind:
Use snow tires with adequate tread. Average tires will not grip when driving on snow and ice. If you tend to drive around a lot during winter time, be sure to purchase winter tires with deeper tread. Moreover, use high-quality screen wash that won't freeze until at least -35 degrees. If you don't, you could end up being unable to use your windshield wipers in extreme conditions.
When driving in snow, it's important to accelerate slowly. Use the vehicle's brakes, steering wheel, accelerator, and gear changer in a smooth and timely manner. In addition, be sure to drive at a manageable speed that allows more time to stop and steer. During the day, wear sunglasses to reduce the glare of the low winter sun reflecting on the snow.
Stay safe and take the proper precautions to enjoy your winter travels or road trips. For your winter car needs, visit a trusted Audi Bloomington, IN dealer near you.
(Source: 10 Best Cars to Tackle Winter: 2014 Edition, The CarGurus Blog, November 21, 2014)