With the diverse selection of automobiles provided by different dealerships all over the country, it is quite hard to choose the best car that could meet the specific requirements set by potential buyers. Fortunately, car reviews posted online by professionals and other users can be used as references by people who are interested in investing in a new ride. It allows them to have an easier time researching on the latest developments in the industry and on the leading vehicle makes and models that they can trust.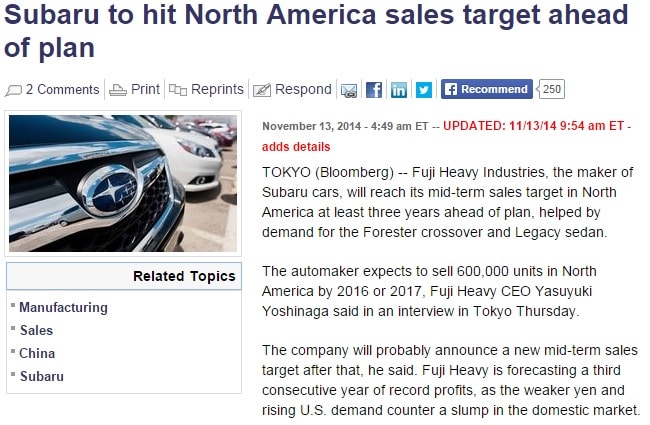 Subaru: A Trusted Carmaker
In an article posted last November 13, 2014 in the Automotive News website, it was reported that Subaru will be able to hit their target sales three years ahead of their original goal.
TOKYO (Bloomberg) -- Fuji Heavy Industries, the maker of Subaru cars, will reach its mid-term sales target in North America at least three years ahead of plan, helped by demand for the Forester crossover and Legacy sedan.
The automaker expects to sell 600,000 units in North America by 2016 or 2017, Fuji Heavy CEO Yasuyuki Yoshinaga said in an interview in Tokyo Thursday.
The company will probably announce a new mid-term sales target after that, he said. Fuji Heavy is forecasting a third consecutive year of record profits, as the weaker yen and rising U.S. demand counter a slump in the domestic market.
Subaru cars are made by Fuji Heavy Industries (FHI), a Japanese multinational corporation, which said that the progress that Subaru is making is because of the demand for their Forester crossover and the Legacy sedan. This fact was also supported by the October 2014 Auto Sales: Winner and Losers by AutoGuide.com, stating that the sales of Subaru increased by 25% and October 2014 marked their 35th consecutive month of increasing sales.
With the continuous recognitions and milestones achieved by Subaru year after year, they have definitely become a top contender on the market-and a popular choice for consumers looking for a reliable vehicle. Bloomington Subaru cars are offered by various car dealerships in the city such as the Royal on the Eastside. They offer a wide selection of new and used Subaru cars, so you're sure to find the right one for your needs.
Subaru Bloomington dealerships are accesible to customers from different towns and cities nearby. It is advisable to contact dealerships regarding their prices and other services to help in your decision making.
(Source: Subaru to Hit North America Sales Target Ahead of Plan, Automotive News, November 13, 2014)