Purchasing car is considered a huge investment next to home ownership. People who plan on buying a car may choose between a new or used car. The whole car buying process requires a lot of leg-and paperwork before you finally drive away with a new ride. From applying for a car loan, locating dealerships in the area, inspecting car choices, negotiating, to contract signing, you have your work cut out for you.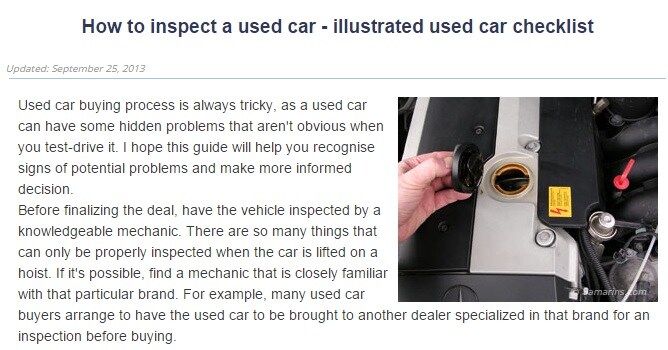 Hence, here is a simple checklist provided by Samarins.com regarding how to properly inspect a used car to help buyers in their decision making:
What to look for in a used car
When inspecting a used car, you are looking for two things: signs of major problems that should tell you to avoid the car and any minor issues that need to be taken care of or that you can use in negotiations. If you found any evidence of a major problem in a car, there is no point to inspect it further, move on to the next car. Major problems include substantial rust damage, potential engine and transmission problems, previous serious accidents, flood damage, and signs that the car has been abused or neglected by previous owners. Minor issues are the ones that can be easily corrected, including worn tires, minor suspension and brakes problems as well as minor appearance flaws like dents, scratches, etc.
The most vital thing to remember during inspections is to look for the minor and major problems. This step is important as it can help the buyer save time and money in the long haul. Flaws like dents or scratches, worn tires, and brake problems are considered minor problems that can still be repaired. Upon seeing major problems in the engine and transmission, damage caused by flood or accidents, and/or substantial rust damage, you may want to skip that particular vehicle.
Test driving can also be done to check the car's performance and maneuverability. Observe the engine while idling, shifting gears, and accelerating. Notice if there are any smoke and irregular noises or vibration. Test driving can be done on different kinds of roads for better assessment. Visit leading Bloomington car dealerships and ask their staff regarding their best-selling models and do comparisons to get the best deal in the market.
Car dealerships such as Royal on the Eastside, offer a wide and diverse selection of brand new and used cars in Bloomington, IN, so that prospective buyers are sure to find their desired car. Whether you're looking for a family car or a new ride for your teenage son, see to it that you do adequate research and inspection prior to signing on the dotted line.
(Source: How to inspect a used car - illustrated used car checklist, Samarins.com)