Audi is taking some serious steps to achieving its target of surpassing 2 million new-car sales annually by 2020. In an interview with Car Magazine, Chairman Rupert Stadler confirmed that the famous car manufacturer will soon expand its current range of 50 model lines to 60 before the decade ends. One of the first of the additional models will be the Q1 SUV, which is planned to be unveiled in late 2015 or early 2016: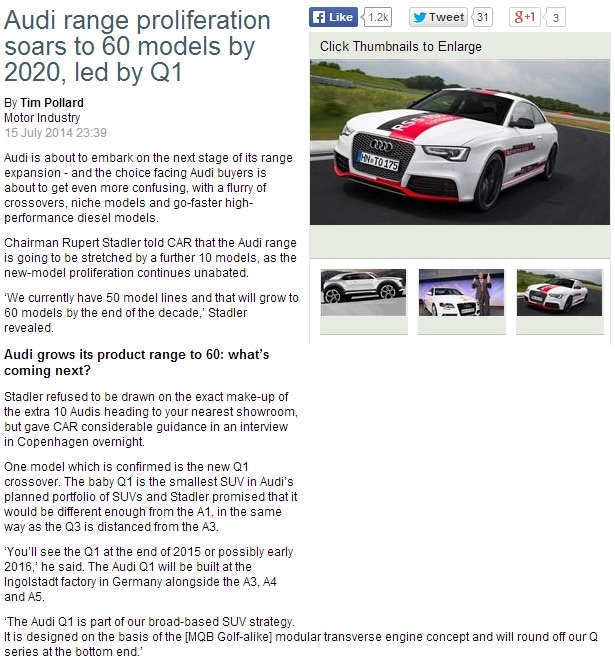 One model which is confirmed is the new Q1 crossover. The baby Q1 is the smallest SUV in Audi's planned portfolio of SUVs and Stadler promised that it would be different enough from the A1, in the same way as the Q3 is distanced from the A3.
Stadler also gave hints about the company's plans to introduce the RS5 and SQ5 models in the market soon, expanding Audi's range of high-performance diesel vehicles. Though these aren't set in stone yet, they're nonetheless something that Audi fans can look forward to in the future.
For now, aspiring car owners must visit renowned dealerships to get behind the wheel of one of Audi's excellent vehicle lines. South Central Indiana residents can rely on reputable Bloomington Audi, IN dealers for new and used Audi cars, like Royal on the Eastside, to have a large selection of vehicles from the German company, ranging from the smooth-running Q5 to the luxurious A4.
The 2014 Q5 crossover is a vast improvement over its 2013 counterpart, with an improved all-wheel-drive system, eight-speed transmission system, and better steering response. The Q5 espouses comfort, with Q5 Premium Plus Model in particular featuring heated front seats, auto-dimming interiors, a panoramic sun roof, and other features that make it an excellent choice for an all-weather family vehicle. All 2014 Q5s can be upgraded with an MMI Navigation plus package that provide drivers with even better control and steering.
The A4 sedan, meanwhile, exemplifies Audi's penchant for luxury, aesthetics, and performance, with its sleek style, optional sports seats, and 220-horsepower, turbocharged 2.0-liter four-cylinder engine. It comes as either front-wheel or all-wheel-drive to suit everyone's driving styles, although the former is lauded as a better option because of its quick response and better gas mileage. Those looking for a luxurious car at more affordable costs may want to check the pre-owned inventory of a noted Bloomington Audi dealership.
The success of the A4, Q5, and their cousins, partly motivates Audi's plans to expand its model lines this decade. Whether or not Audi's new Q1 and subsequent redesigns will surpass their current counterparts is something the growing fans of this car brand will be eager to find out.
(Source: Audi range proliferation soars to 60 models by 2020, led by Q1, Car Magazine, July 15, 2014)