The 2014 Nissan Altima is one of the best cars that buyers can get their hands on this year, and possibly in the next decade as well. Torque News reports that the automotive resource website Edmunds.com has declared the 2014 Altima as its Best Retained Value luxury compact sedan.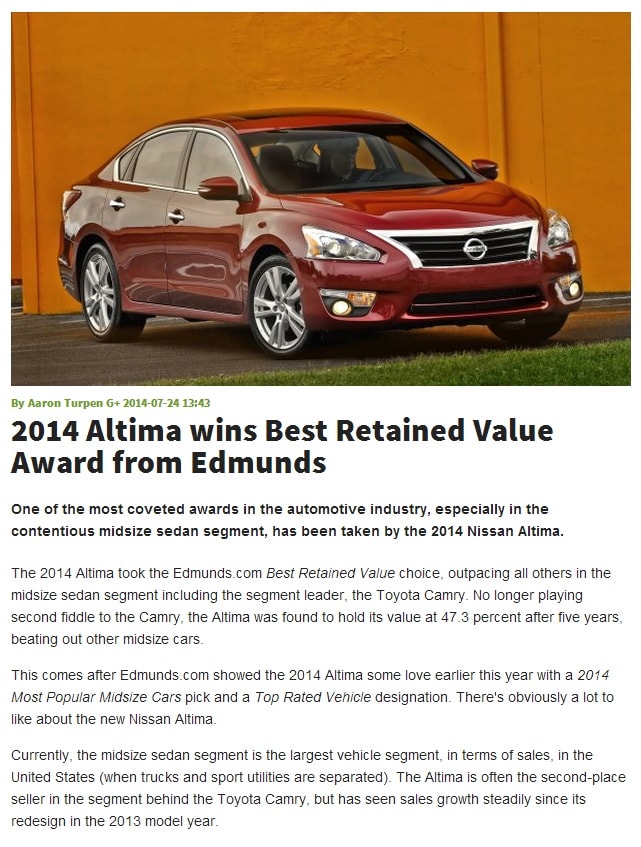 This means that a huge chunk of its value--about 47.3 percent, in fact--is retained after five years. The obvious resale benefit is just one of the many reasons why the authoritative site and many car enthusiasts hold the Altima in high regard.
As the Torque News report says:
Currently, the midsize sedan segment is the largest vehicle segment, in terms of sales, in the United States (when trucks and sport utilities are separated). The Altima is often the second-place seller in the segment behind the Toyota Camry, but has seen sales growth steadily since its redesign in the 2013 model year.
The 2014 Altima is the centerpiece of Nissan's lineup of cars in North America and features several innovations such as Zero Gravity Seating, one of the best continuously variable transmissions (CVT, which Nissan calls the Xtronic) in the business, and more.
With a fuel economy that's at 38 miles per gallon, there's really no question that the Altima is one of the best bets for frugal folks this year. While there are those who would prefer buying the 2014 or the newer 2015 model in mint-condition, they couldn't go wrong if they choose a pre-owned unit instead.
Provided that it has seen proper maintenance, this car make is robust and reliable enough to maintain its performance even after gaining several mileage. With the attractive financing options offered in an established Bloomington Nissan dealership, such as Royal on the Eastside, and a decidedly lower price than a brand new unit, a pre-owned 2014 Altima would definitely be a good buy.
The Altima's continuously variable transmission (CVT) system, or 'Xtronic', particularly deserves special mention. A CVT is distinct in that it makes use of two pulleys that change in diameter, depending on the speed of the vehicle. This allows for better speed control, resulting in a much more comfortable ride.
A drawback of standard CVTs is that it needs time for the engine to spin up whenever it changes gears, causing a 'rubber band-like' driving experience. This concern has been eliminated in Altima's Xtronic system, making accelerating easier, smoother, and more fuel efficient.
All these features, plus roomy interiors, make a pre-owned 2014 Altima worth a close look and a test drive at a trusted Nissan Bloomington dealer.
(Source: 2014 Altima wins Best Retained Value Award from Edmunds, Torque News, July 24, 2014)