Do you want to replace your car with a faster vehicle? You can actually find more affordable options than those million-dollar sports cars, which can be impractical, anyway. (Think about it, when will you ever get the chance to run over 200 mph?) A Bloomington Subaru dealership may just have the car you're looking for.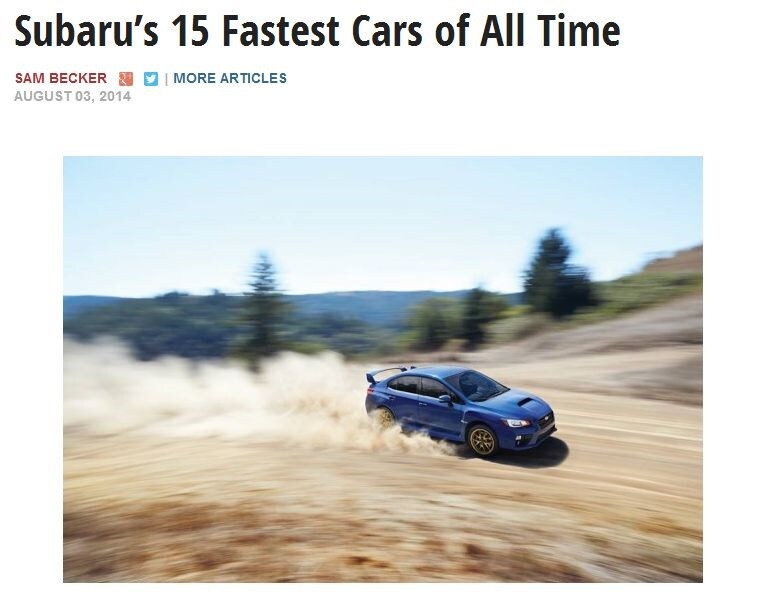 In an article for Wall St. Cheat Sheet, business and auto writer Sam Becker features 15 Subaru models which he has ranked as among the brand's fastest cars, excluding "concept models, one-offs and heavily-modified vehicles." While other brands may be more popular or highly rated, Becker says there are only a few "that can really live up to the abilities many Subaru vehicles possess."
Subaru is known for building some of the most capable and versatile vehicles in the world. If you're planning on doing some off-roading or rally driving, chances are Subaru has been near the top of the list of vehicles to check out. Popular models like the Impreza, the WRX and the Outback are favorites of outdoors enthusiasts around the world, and every year that passes brings about new technology and even more innovation from the company's engineering labs.
While the company doesn't produce sport or luxury cars per se, it can be said that they do produce performance vehicles. In fact, performance is the main reason customers flock to Subaru's lineup, as they successfully piece together capability with speed.
Becker's rankings were based on how fast the vehicles can accelerate from 0 to 60 miles per hour. Among the featured makes and models that clocked in at 8 seconds or less were three Impreza versions, the Outback 3.6R, the BRZ, and three Legacy lineups. Even an SUV (Forester 2.5 XT) made the list. The high horsepower and sleek design of each vehicle are the contributing factors to the cars' impressive performances.
Another attractive trait of these fast machines are their matching safety features. Even when driving at the vehicles' maximum speed of around 130-155 mph, the driver can be assured of top-of-the-line safety devices like six airbags, traction control, and the all-important antilock brakes. These earn the models great safety scores from car reviewers and raters.
Car dealerships for Subaru in Bloomington like Royal on the Eastside offer new and used Subaru vehicles alike. You can take a car out for a spin to test its performance, and get comprehensive information on your options from the dealership's friendly and knowledgeable sales staff.
(Source: Subaru's 15 Fastest Cars of All Time, Wall St. Cheat Sheet, August 3, 2014)