When shopping for used cars for a teenage driver, a parent should never sacrifice safety for savings. However, a recent survey by the Insurance Institute for Highway Safety (IIHS) showed that the median budget for a teen's vehicle was $5,300, which, unfortunately, somewhat limits the choices of models that are considered safe for teens: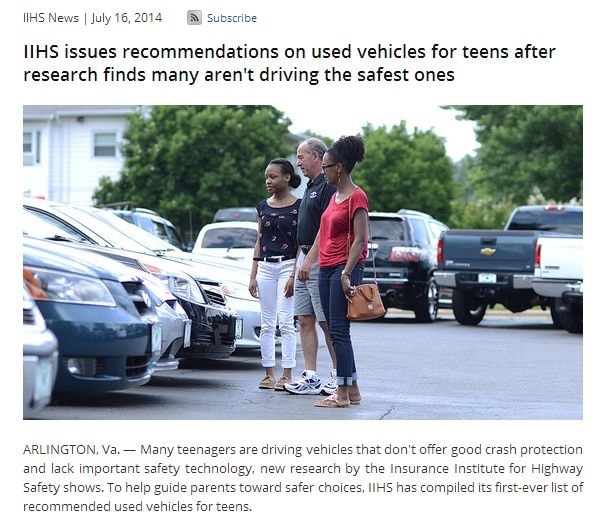 As stated in an article on the IIHS website:
All the recommended used vehicles have standard ESC and provide good protection in moderate overlap front crashes. Those considered "best choices" for under $20,000 also have good ratings for side crash protection, good head restraints and seats for rear crash protection, and good roof strength to protect occupants in rollover crashes. Vehicles considered "good choices" for under $10,000 have good or acceptable side crash protection and head restraints rated better than poor. Prices on the best choices list start at $7,300, while the cheapest good choice is $4,000."
The IIHS lists some pointers and recommends several car makes, which it says are the most suitable for teens. Parents should head over to reliable Bloomington car dealerships and consider the four principles given by the IIHS as listed below, when looking for a vehicle for a teenaged driver.
Don't get "high."
A car with a high horsepower can tempt the teen to drive at maximum speed.
Bigger is better.
Small cars offer less protection during crashes. Bigger, heavier cars like midsize or large sedans, small SUVs, and minivans are preferable.
Exercise control.
Electronic stability control (ESC), a required feature in all recent models starting 2012, reduces the risk of fatal single-vehicle crashes on curvy or slippery roads.
Trust in tests.
Good safety scores from the IIHS overlap front test and side crash test, and 4-5 star ratings from the National Highway Traffic Safety Administration (NHTSA) indicate a reliable performance, making the vehicles safer for teenagers.
IIHS' recommended list includes the Audi A4 and A6 sedan, Subaru Legacy, Buick and LaCrosse, GMC Acadia and Terrain, Honda Pilot and Odyssey, Mazda 6, and the Volkswagen Tiguan, among the mix of luxury and economy cars.
Controllability and visibility should also be among the factors to consider, aside from standard safety features. Opting for 2012 car models at the oldest would be ideal. Parents should also look for cars with such features as complete sets of airbags, a rollover sensor, antilock brakes, and daytime running lights.
A respected dealer of used cars in Bloomington, IN, like Royal on the Eastside, offers options that meet these IIHS guidelines. Additionally, they provide complete information and maintenance histories of the used vehicles they sell to further give their buyers the quality and safety assurance that they seek.
(Source: IIHS issues recommendations on used vehicles for teens after research finds many aren't driving the safest ones, Insurance Institute for Highway Safety, July 16, 2014)